Yuen Method Wellness
Yuen Method Wellness comes from an ancient Chinese Energetics that has been passed down through many generations in the Chinese culture. From that ancient tradition, Dr. Kam Yuen created a cutting edge Energy Therapy, that is a complimentary health technique blending anatomy, physiology, kinesology, chiropractic, qi gong, feng shui and quantum physics.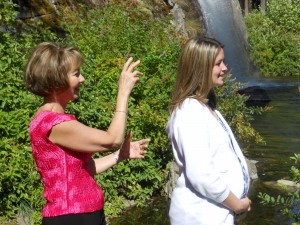 The Yuen Method can greatly minimize or completely eliminate chronic pain, allergies, fears, depression, and old behavior patterns. It often has a profound and lasting effect on your health, rejuvenation, self-esteem, positive attitude, your relationships or even your prosperity. It requires absolutely no exercise, no drugs, no meditation, no devices, no hypnosis, and no religious beliefs. It often delivers prompt results on the spot or even at a distance.
A Yuen Method Practitioner
A Yuen Method Practitioner uses no physical touch to bring about change. He or she does not make any diagnosis, prescribe medication, or recommend that any person discontinue medication prescribed by a licensed healing arts services practitioner. He/she simply uses applied kinesology to check a person's energy body and to strengthen the energetic weaknesses found. When a person's energy body is strengthened, it allows their body's natural healing ability to take over and bring about positive change.
The Yuen Method for Chronic Pain
Dr. Yuen's premise is that a person's body functions like a computer. On an energy level, we, as humans, are either strong or weak on any given issue. Pain or discomfort in any area is a sign that something is wrong with the flow of energy in the body. Since humans are multi-faceted beings with multiple levels of consciousness, the Yuen Method simply works to make sure that all levels of consciousness are congruent so that pain and discomfort can be minimized and personal goals can be attained.
The path of health, prosperity, integrity, success, and freedom from stress and pain are the birthright of every human being! Yuen Method Wellness simply makes it possible to clear and correct the multiple layers of consciousness so that we can manifest our highest potential! Dr. Kam Yuen originated the Yuen Method Wellness mind-body technique. To read more about Dr. Yuen, click on http://www.yuenmethod.com.
Schedule a Yuen Session in Spokane!
Kari Joys' office is based in Spokane, Washington. When you are ready to schedule, click on Schedule to contact Kari directly. If you are not able to work with Kari directly, click on Store to order her book Choosing Light-Heartedness or her 33-Day Journey to Light-Heartedness E-Course. Kari's Yuen Therapy and her Emotional Healing process could literally save you months and years of traditional therapy!
Rave Reviews for Kari's Yuen Method Sessions:
After you have read these testimonials, please click on Kari's Schedule to set up your own Yuen Method Wellness session today!
"My legs were hurting badly every day. My doctor had referred me to a specialist for arthritis in my knees. Before I was able to get in with the specialist, I had a Yuen Method Wellness session with Kari and the pain went away completely within twenty minutes. I am still pain free six months later!" –Sally
"My Yuen Method Wellness session was simply AMAZING!! Driving back to work I laughed out loud until the tears flowed. Happiness and a feeling of joy that came from deep inside me is something I have not felt in a long, long time! During my session I experienced a vast array of emotions, beginning with anger and sadness and ending with happiness. The result is much greater self acceptance. My feelings toward myself, toward my relationships, and life in general, have been dramatically changed in a very positive way. It truly is as if a switch has been thrown. In my life the positive energy had been turned "Off". During our session it was turned back "On". It feels WONDERFUL!! Thank you Kari! Thank you so much!" Stu
"After my first session with Kari, I lost all cravings for sugar and fast food. My obsession with food began as a toddler and has haunted me throughout my life. However, I now understand and practice the "eat to live" rather than "live to eat" philosophy. Before going to Kari, my blood pressure was 175/85 and is now 116/65 on a regular basis. My average blood sugars (I'm diabetic) were averaging 175 and now are 90-120. Instead of sleeping 12 hrs a day, I now require 7-8 hrs. Additionally, my overall state of mind and well-being has greatly improved. At 58 years young, I am moving forward into a new phase of my life that I feel would never have been possible without Kari and Yuen Method Wellness." –Mary
"I had an intense pain in my stomach and my doctor had scheduled a C.A.T. skan to find out what was wrong. Before it happened, I saw Kari and she did a Yuen Method Wellness session with me. I felt relief from the pain immediately! I could hardly believe it was gone, so I got up and stretched and did everything I knew to make the pain come back, but it didn't come back! I was totally surprised and shocked, because I've never seen anything like this before! Since then, it's never been the same. The most I've felt in two weeks is a fluttery feeling in my stomach where the pain used to be. I thought the Yuen Method Wellness was totally awesome! I've told everybody I know about it!" –Brad
"I am a very logical person and I usually don't believe in energy work, but after my first session with Kari, I am now a true believer! Don't ask me how this works, because I have no idea. It doesn't make sense but one thing does–it works! I almost laughed at Kari when she asked if I would be willing to try it but I kept an open mind, and thank God I did! I went from negative thoughts that kept me from moving forward, to an amazing state of peacefulness which afforded me the opportunity to problem solve and work through some very tough areas in my life. Thank you, Kari, for everything.! You are making a huge difference in my life!" Chuck
"I was doubled over with intense pain from my menstrual cycle one day, and after doing a Yuen Method Wellness session with Kari, my pain was almost totally gone and I was able to go to class. Since that my menstrual pain has never been as bad as it was before! Another time my head hurt so bad I thought it would burst, like someone was sticking a knife in my head. The Yuen Method Wellness took the pain away completely in just a few moments! " –Angela
"I still can't believe the difference in how I feel after just one visit. I had been living with such depression and dread each day of my life I was beginning to lose hope. Even being on three antidepressants I had this feeling. When I left Kari's office after the first visit I felt so much better, no feelings of dread, even the music on the radio was so much more enjoyable and I could even hear the words better. I now have so much more hope for the future." Arny
"My neck and back were so stiff from my work that I could hardly move, and after doing one Yuen Method Wellness session with Kari, a couple days later I felt totally healed and back to normal." –Staci
"Off and on for several weeks I had been feeling pain around my heart area, and then I became concerned when my old neck-injury pain returned, after not being there for 20 years. Kari suggested doing a Yuen Method Wellness session, so we met, and I relaxed while she began the Yuen process. My eyes were closed as she asked me questions about how I felt and did her energy work. As I responded to her questions, I could see the energy flowing out of my hands and out my feet. There was so much energy flowing out of me that there were puddles of energy coming off my hands and feet. The energy around my heart and neck and upper chest began to expand and become lighter. The pain itself released as my neck cleared up and then my heart! There was an exhilarating feeling of expanding, and opening up, and utter lightness!
The amazing thing is that our Yuen Wellness session was three months ago, and there has been no pain since! I kept waiting for it to come back but it never did! Thank you, Kari! With love, light and laughter," –Deborah Katrina
"I am currently confined to a wheel chair due to a traumatic accident and a rare form of M.S. I was always in pain and nothing I would do helped. I had a very difficult time sleeping and getting comfortable because the pain was so bad, and I was just in an emotional state all the time because I was so frustrated and scared. When I started doing the Yuen Method Wellness three months ago I was not sure of what exactly I was getting into or what to expect. I have been doing this now for three months and my pain level has gone from being always at a 9-10 on the pain scale of 1-10 (with 10 being the worst possible pain), down to a 1-2, which is almost nothing. I sleep more restfully and I don't have to keep taking pain medications. I could never imagine not having Yuen Wellness in my life!" –Mickey
"I had a pain in my side that went around to my back. I was planning to see a doctor to find out what was wrong. I had a Yuen Method Wellness session with Kari and my back pain started feeling better almost immediately. As I got calmer, the sharp pain in my side dissipated too. I felt warmth where the pain had been. An inner peace took over my body and mind, and I began to feel calm and secure." –Todd
"I want to sincerely thank you and offer many blessings to you for the important role you have played in my life. Your persistent efforts to bring Yuen trainings to the area have radically changed my life – as well as many others. THANK YOU FOR ALL YOUR HARD WORK!!!!!!!! Being able to sit in a place of neutral at this juncture in my life is unbelievably wonderful. I have this gift because of you, and I will treasure it forever. Blessings on your day, Peggy"
"At the end of February, I took the Yuen Method Wellness training. I received a healing on my fibromyalgia symptoms that had been limiting my life for ten years. After the healing, I felt renewed, pain free, expanded, and filled with joy. Since that time, I have continued to do healings on myself and on others and have more energy than I have had since I was a teenager (I am 64 years old). I have seen miraclulous healings happening for myself, my clients, my friends and my family. This method of healing combines the physical, mental, emotional, psychological, psychic and spiritual in a way which is more thorough and effective than I have ever experienced in my forty-five years of my own healing and the thirty years I have been a holistic counselor." –Patricia Yacker, MS, LMHC
"I came for a Yuen Method Wellness session not knowing what to expect, but open to the possibilities. The physical and emotional blockages were removed very quickly and I soon felt physically clearer and more emotionally expanded. It felt like obstacles were removed in my consciousness that left me feeling more free and more able to be who I really am, and all of it happened in only one session! Strangely enough, I also felt very positive about being able to achieve goals that had seemed insurmountable for years previously! I left feeling very refreshed." –Lori
"I cannot begin to tell you how grateful I am to you. I came to you four months ago in absolute despair, not depression, just pure despair. After one Yuen Method Wellness session, I was able to move forward and became employed. With two more sessions, I became self-sufficient again. Now I am looking for an office site in which to open my own business. I call that a 180-degree turn around. I'm happy with myself and with my future! Thank you so much!" –Shirley
"Five years ago, I began sliding into the worst clinical depression of my life, in spite of seeing the best physicians, psychologists and psychiatrists available. The depression eroded the tapestry of my life until the things I hold most dear were crumbling into shreds. I wondered why God had put me on this earth to suffer such pain. My family watched me change from a loving wife and mother to someone whom they did not recognize. My lowest point came when my psychiatrist said that I should consider submitting to ECT (formerly known as electric shock therapy). I can't remember ever being so scared in my life!
Professionally, I'm a nurse trained in the conventional methods of treatment. If I hadn't experienced this myself, I would not believe that someone could make the progress I have made in just four sessions! Before I did Yuen Wellness with Kari, along with my depression, I had a multitude of physical complaints including arthritis, irritable bowel syndrome, insomnia, asthma, allergies and restless leg syndrome.
Now, after only four Yuen Method Wellness sessions, my depression is greatly improved and my physical complaints are disappearing one by one! Some of the changes I have experienced are that I can honestly feel joy, laughter, delight, passion, mental clarity, absence of pain, a renewal of my own spirituality, and a gratitude for the gift of my life! It's hard to believe that I am the same person!
Also, just a month ago, I told Kari that I could ABSOLUTELY NOT entertain the idea of a diet. I had done yo-yo dieting for more than 15 years and would not put myself through that psychological horror again. Now, after the last Yuen Method Wellness session with Kari, I am currently on a low-carb, no sugar diet and enjoying every minute of it! My sugar cravings have virtually disappeared, and I have already lost ten pounds! Plus, most nights, I just drop off to sleep and wake up refreshed with enough energy to put in a full day! Am I completely cured? No, but I believe that with Kari's Yuen Method Wellness, I will be soon!" –Deb
Yuen Method Disclaimer
Yuen Method Wellness is not a substitute for any other medical care and consultation. Kari Joys makes absolutely no claims of treatment or cures! Yuen Method Wellness may, or may not, facilitate the healing process. It is a supportive and integrative system and it's not a diagnostic method. Always consult your physician for diagnosis and treatment. Yuen Method Wellness is a non-invasive, non-touch technique.