Although Emotional Healing is a marvelous gift, there will always be days in your healing journey where you feel stuck or depressed and life feels hopeless and overwhelming to you. Those are the days when it's important to remember to pray for Divine help and guidance.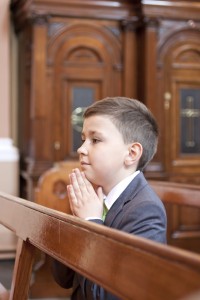 Divine help is always available to you, even when things look hopeless or impossible. You can never know how the answer to your prayer will come, but, rest assured, when you sincerely ask for Divine help; there will always be an answer.
What is Prayer?
Prayer is simply inviting Divine Presence into your life and into your healing process. It's talking to God in your mind and asking for help and guidance with whatever is going on in your life. Inviting Divine Presence doesn't require joining any religion or choosing any religious belief system, although it's fine if you do. You don't have to go to church or tithe your money, although you may find those activities valuable at some point.
When you pray, you simply ask for Divine help and guidance with whatever is challenging you each day. It's developing your own personal connection with your Higher Power. You can call it God, or the Universe, or the Creator, or Allah, or Divine Spirit or whatever you wish, but whatever you choose to call it, just start asking for that Divine help and guidance daily.
When you ask for Divine help and guidance for your Emotional Healing, things have a funny way of working out, even when they seem impossible at the time. The fascinating part of receiving Divine help is that often your answers come in ways you would never expect. It's actually fun to sit and wonder "How will God come through for me this time?"
Science and Prayer
For many years prayer was not considered appropriate to recommend to clients who were suffering. Prayer was thought to be an emotional crutch that only people who were weak and dependent would ever need to utilize.
But thanks to some wonderful holistic physicians like Dr. Larry Dossey, who wrote Healing Words and Dr. Bernie Siegle, the author of Love, Medicine and Miracles, today we've discovered that prayer does make a positive difference in the healing process. Prayer is now regularly recommended to people who are facing life-threatening illness or untimely death. As a result, many people are now more open to asking for Divine intervention in their lives.
In Healing Words, Dr. Larry Dossey predicts that someday soon "prayer will become recognized as a potent force in medicine, and will become incorporated into the mainstream." He also expects that in the not-to-distant future, not recommending the use of prayer will actually constitute medical malpractice. 
Answered Prayer
I remember a personal experience many years ago when I was a young, single mother. I was trying to raise my two little daughters on my own, while also facing my own sexual abuse issues. The emotional pain of sexual abuse was intense and overwhelming to me–I felt ugly, dirty, depressed and hopeless. I didn't have a counselor or psychotherapist to guide me at the time and I didn't know who to call for help, so for several days I simply prayed and prayed just to feel hope again.
It was like being stuck at the bottom of a well with no ladder and no way to crawl out. Everything looked depressing and hopeless to me. It was challenging to face my daily responsibilities and take care of my beautiful little girls. All I knew to hang on to at the time was my spiritual connection. Although there was no immediate miraculous intervention in my life, I trusted that God heard my prayer.
Several days later, through a phone call I wasn't expecting from a dear friend, I heard the loving words I needed to hear to pull me out of the well and put me back on my feet. My friend simply reminded me that it wasn't me that was ugly and dirty; it was the abuse that had happened to me. She also reminded me that I was just a little girl when the abuse happened, an innocent child who deserved to be loved and protected.
It may not have been profound message to anyone else, but God obviously knew the words I needed to hear. From that experience and many others like it, I learned that God is always listening, if I simply remember to ask.
Positive Prayer
You can obviously pray to God any way you want to, but you may find that positive prayer gets better results. Positive prayer comes from knowing that whatever we believe about God, people from all over the world agree that God is all-knowing, all powerful and everywhere present.
In the Christian Bible, Jesus Christ regularly demonstrated positive prayer. He used it when he blessed a child's five loaves and fishes as if they were enough food to feed five thousand people. After his affirmative prayer, the five thousand people were fed and there was plenty of food left over.
Christ also used positive prayer when he raised Lazarus from the dead. He simply said "Father, I thank thee that thou hast heard my prayer. I know thou hearest me always."
In positive prayer, you deliberately choose thoughts or prayers that focus on the good you desire, rather than on the loss, lack or limitation you may currently be experiencing. Hypatia Hasbrouck, in her book Handbook of Positive Prayer, reminds us that the current 'facts' of our lives are actually only temporary appearances, while spiritual truth is enduring.
Prayer in Psychotherapy and Emotional Healing
In my work as a psychotherapist, there are always times in the Emotional Healing process where I recommend prayer to my clients. I've simply found that when God, my client and I are all working together, Emotional Healing happens much more easily and quickly.
Although you can always talk to God with your own words, sometimes when you're overwhelmed, it helps to have prayers and affirmations available that remind you of spiritual truth. One of the prayers I regularly recommend to my clients is this one:
"The light of God surrounds me,
The love of God enfolds me,
The power of God protects me
The presence of God watches over me,
Where ever I am, God is…
And all is well!"
~James Dillet Freeman
Leave a Comment or a Question
I'd love to hear your comments and questions.
Have you experienced anything like this in your life?
What would you like to hear more about?
Sign Up Today to Receive Kari's Future Blog Posts
If you have enjoyed this post, you can sign up today to receive Kari's future posts in your email. Just fill in your name and e-mail address in the blue and white box on the upper right column above Kari's picture and we'll be very happy to notify you when the next post is ready!
More Information:
For more information, you may also want to read some of Kari's other posts:
10 Tips for Creating a Better Life for Yourself
How to Practice Emotional Healing
Ego Versus Spirit in Emotional Healing
Why Emotional Healing Far Surpasses Medication
Why Does Emotional Healing Transform Your Life?
50 Long-Term Benefits of Emotional Healing