The concept of verbal abuse is still new in our world. Many of us still don't really know what verbal abuse is or how to deal with it. For that reason, I often recommend Patricia Evan's book The Verbally Abusive Relationship to my clients.
As a psychotherapist, what I like about the book is that it spells out the characteristics and categories of verbal abuse, as well as our basic rights in a relationship.I'm going to list them here so that you can better understand the concept of verbal abuse.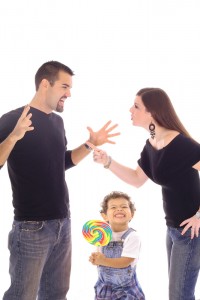 Verbal Abuse is Disrespectful and Hurtful
Verbal abuse is a negative way of talking that is disrespectful and hurtful. It attacks the nature and abilities of a partner. It can be overt or covert. It can be voiced in an extremely sincere and concerned way. Verbal abuse is manipulative and controlling. It disregards, disrespects or devalues a person. It's often unpredictable.
Verbal Abuse often expresses a double message between how the person is talking and his or her real feelings. It usually escalates over time, increasing in intensity, frequency and variation.
Often, verbal abuse is the real problem in a relationship
and the reason why issues never get resolved.
Patricia Evan's 15 Categories of Verbal Abuse:
1. Withholding: Unwillingness to share deeply or to support your partner empathetically.
2. Countering: Not allowing your partner to have a different perspective than your own.
3. Discounting: Denying and distorting your partner's reality and experience.
4. Negative joking: Making put down remarks under the guise of wit and style.
5. Blocking and diverting: Blaming, switching topics or stopping communication.
6. Accusing and blaming: Blaming your partner for your own anger or insecurity.
7. Judging and criticizing: Negating your partner's feelings of criticizing who they are.
8. Trivializing: Subtle interpretation that your partner's perception is insignificant.
9. Undermining: Eroding your partner's self-esteem by implying inadequacy.
10. Threatening: Controlling your partner by bringing up their greatest fears.
11. Name calling: Overt put-downs or sarcasm.
12. Forgetting: Manipulating your partner by denying previous agreements.
13. Ordering or demanding: Giving orders instead of asking respectfully.
14. Denying: Denying the reality of your partner or what you are doing to them.
15. Angry outbursts: Exhibiting angry outbursts when your partner doesn't do what you want.
Patricia Evan's 15 Basic Rights in a Relationship:
1. The right to good will from your partner.
2. The right to emotional support.
3. The right to be heard and responded to with courtesy.
4. The right to have your own view or your own perception.
5. The right to have your feelings and experience acknowledged as real.
6. The right to receive a sincere apology for any jokes you find offensive.
7. The right to clear answers to questions concerning what is legitimately your business.
8. The right to live free from accusation and blame.
9. The right to live free from criticism and judgment.
10. The right to have your work and your interests spoken of with respect.
11. The right to encouragement.
12. The right to live free from emotional and physical threat.
13. The right to live free from angry outbursts and rage.
14. The right to be called by no name that devalues you.
15. The right to be respectfully asked rather than ordered.
My only issue with Patricia Evan's book is that she writes it as if the verbal abuser is male and the victim is female. As a psychotherapist, I know that verbal abuse is not gender related. There are many women who are verbal abusers as well as men. If you simply keep that fact in mind while you read, I know you'll find this book very helpful!
Please click the link below to order The Verbally Abusive Relationship from Amazon.com:
The Verbally Abusive Relationship: How to recognize it and how to respond
Leave a Comment or a Question
I'd love to hear your comments and questions.
Have you experienced anything like this in your life?
What would you like to hear more about?
Sign Up Today to Receive Kari's Future Blog Posts
If you have enjoyed this post, you can sign up today to receive Kari's future posts in your email. Just fill in your name and e-mail address in the blue and white box on the upper right column above Kari's picture and we'll be very happy to notify you when the next post is ready!
More information
You may also enjoy reading some of Kari's other Blog posts, like:
Overcome the Control that is Keeping You Miserable
Why does Emotional Healing Transform Your Life?
50 Long-Term Benefits of Emotional Healing
Conquer Anxiety Through Personal Power