Laughter is a powerful healing force and the most inexpensive medicine you will ever find! Laughter can strengthen your immune system, increase your intellectual performance and improve your cardiovascular flexibility.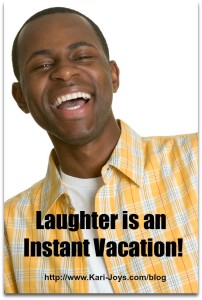 Laughter is also an instant vacation. It can help you see the world from a broader perspective, expand your creativity and allow you to feel more deeply connected to the people you love. Laughter helps you release your stress, anxiety or depression and puts you back into the flow of life.
The Many Benefits of Laughter
In 1979, Norman Cousins wrote a book called "The Anatomy of an Illness" where he described fighting a life-threatening illness through humor. His remarkable story of triumph is still inspirational today.