We live in an interesting world today. We have telephones, televisions, computers, internet, e-mail, cell phones, texting and ipads, but we still don't know how to connect heart-to-heart with each other.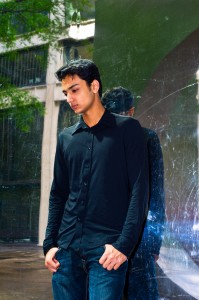 With all of these modern methods of communication, we should be more connected than we have ever been, yet many of us still feel lonely and isolated.
Social Isolation and Loneliness
The experience of social isolation or loneliness comes from not feeling safe to share your real self with others. This pattern often originates from difficult experiences in your life, such as going through a divorce, the death of a loved one or moving to a new area.
Feelings of loneliness and social isolation can also originate from negative experiences or abandonment in past relationships. Sometimes we feel lonely or isolated when we are carrying huge responsibilities in our lives or when we think we are too busy to pursue friendships.
Often the outer circumstances that create social isolation and loneliness cover the deeper, root causes, such as:
•    No role modeling for healthy relationships in your childhood
•    Never learning healthy ways to communicate your feelings
•    Verbal, physical, emotional or sexual abuse in your childhood
•    Lack of experience with healthy conflict resolutions skills
If you have experienced any of these challenging circumstances in your life, you may feel afraid to try getting close to someone again. That's completely understandable! Many people experience those feelings at some time in their life.
Loneliness Can Create Serious Health Problems
Dr. Lissa Rankin, the author of Mind Over Medicine, Scientific Proof that You Can Heal Yourself, says that loneliness affects your body's physiology more negatively than smoking or not exercising. She says "Someone  trying to navigate the details of life alone is faced with a series of stressors every day. Who is going to help out with the kids? How am I going to pay the bills? Who will take care of me when I'm sick? How will I make time to care for myself? Who will love me?"
Dr. Rankin goes on to say "But someone comforted by the knowledge that they are loved and cared for can relax, even when life is stressful. Stress responses decrease, relaxation responses increase, and the body can get back to the business of doing what it does best– to heal itself."
Unhealthy Behavior Patterns that Continue Social Isolation
Many times when a person has experienced hurt or trauma in the past, he or she develops unhealthy behavior patterns that continue the pattern of social isolation.
Some examples of these unhealthy patterns would be:
Being afraid of other people's judgement or criticism
Allowing your fears to keep you from reaching out to potential friends
Not sharing your honest feelings that would help you build connections
Being unwilling to take risks or try something new
Having a constant negative attitude
Always expecting the worst
Thinking only of your own feelings and needs
Putting other people down to cover your own insecure feelings
Being angry or controlling
Dominating the conversation, so that others can't say anything
If you want to overcome your social isolation and loneliness, you may need to get some objective feedback from someone you trust about negative behavior patterns you may be doing. Sometimes we are not aware of what we are doing or how we are affecting the people around us.
It's important to know if you are saying or doing things that create emotional distance between you and the people you want to be close to. The good news is that negative habits can always be changed if you are willing to learn and grow.
7 Tips for Creating Healthy Connections
Through my thirty years of helping people overcome isolation and loneliness, I've identified 7 tips that will accelerate your journey to developing healthy connections in your life. I'd love to see you try them every day for a month and just notice what happens in your life!
1. Find the root cause of your pattern of isolation and loneliness. Perhaps the patterns began with unresolved family issues, like childhood abuse or neglect, or maybe they stemmed from losses later in your life. Sometimes these patterns simply came from parents who had their own unresolved emotional issues or didn't know how to role model healthy relationships for you.
2. Identify any negative behavior patterns that could push others away. Be kind to yourself in this process. Realize that you learned these behavior patterns as 'survival techniques' to live through some difficult experiences in your past. The good news is that if you become aware of what you're doing, it's never too late to change your unhealthy patterns!
3. Practice the JoyIAm Process. When you identify what you really feel and learn to express and release those feelings, it will bring about amazing changes in your life. By expressing and releasing your unresolved feelings from the past, you'll naturally discover creative ideas for making your life better in the future.
4. Love yourself daily. Loving your inner child is one of the most powerful healing processes you can do. Your unconscious mind doesn't know time, so the love you give yourself today goes into the unconscious mind just as if you had actually received it as a child.
5. Build a healthy support system. Find others who love what you love and share an activity that you enjoy, whether it's hiking, biking, dancing, cooking, spirituality or some type of creativity. You could also join a support group in your area where you can make some real friends. True friends are people who support you to be the happy, confident person you were meant to be.
6. Give unexpected kindness to people you encounter in your everyday life. The quickest way to make true friends is to give unconditional love to the people in your life. When you put yourself in their shoes and think of what they are going through, often you'll discover something you could do that would make their life better. Remember that the love you give freely always comes back to you!
7. Practice laughing every day! If you've forgotten how to laugh, imagine yourself laughing every day until it naturally starts to happen. It's hard to stay lonely and isolated when you are laughing regularly. Just practicing laughter, itself, could help you wake up one day as a happy, healthy person!
Leave a Comment or a Question
I'd love to hear your comments and questions.
Have you experienced anything like this in your life?
What would you like to hear more about?
Sign Up Today to Receive Kari's Future Blog Posts
If you have enjoyed this post, you can sign up today to receive Kari's future posts in your email. Just fill in your name and e-mail address in the blue and white box on the upper right column above Kari's picture and we'll be very happy to notify you when the next post is ready!
More Information
For more information, you may also want to read some of Kari's other posts:
The Surprising Health Benefits of Laughter
Healing Your Shame with the Willingness to be Vulnerable
10 Simple Ways to Love Yourself