Are you a naturally happy person? Or do you often feel sad and depressed? Most of us have heard about the importance of seeing the glass half full instead of seeing it half empty. We all know that positive, optimistic people are happier, healthier and more successful. But how does one go from feeling sad and depressed to being happy and light-hearted?
If you are feeling depressed right now, you probably feel doubtful that you could actually change. I do understand! I became a psychotherapist because I was once depressed myself. After I got better, I became fascinated with helping others get better too.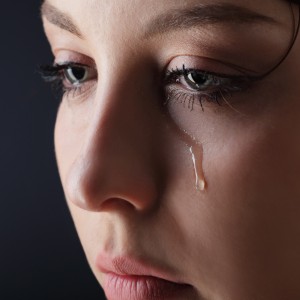 I want you to know that if you are willing to work at it, you can definitely overcome your depression. Just because you're feeling sad and depressed today doesn't mean you have to live that way for the rest of your life. In my work as a psychotherapist, I've helped many people overcome sadness and depression. I know that you can do it too.
10 Steps for Healing Depression Naturally
If you are willing to roll up your sleeves and work though your emotional issues, I've identified 10 steps that will accelerate your journey from depression to emotional health. Why not try them every day for a month and then watch and see what happens in your life?
1. Find the root cause of your depression. Depression generally stems from challenging situations in your life. It can begin with family issues, like childhood abuse or neglect, or it can stem from a trauma or a loss later in your life. Sometimes it's as simple as having parents who didn't know how to help you express and release your feelings in healthy ways.
2. Learn to identify your feelings and do Emotional Healing to release them. Identifying what you really feel and doing Emotional Healing to release those feelings will make amazing changes in your life. When you release the emotional pain from the past, you will find yourself naturally full of creative ideas about how to handle your life better in the future.
3. Forgive yourself and forgive the people who have hurt you. No one is perfect. Everyone has made mistakes in the past. Whatever mistakes you made in the past, you were probably doing the best thing you knew at the time. When you also forgive the people who have hurt you, you're not condoning their negative behavior, you're just choosing to let go of the emotional pain so that you can create a better life for yourself in the future.
4. Change your negative thoughts and beliefs to positive ones. Your thoughts an beliefs are very powerful! When you notice a negative thought or belief coming up, imagine that you're looking at a computer screen and you can hit the 'delete' button.Then replace the negative thought or belief with one that you want to program into your mind.
5. Build a healthy support system of friends who are also interested in personal growth. Join a support group or a positive activity where you can make some real friends. True friends are people who support you to be the happy, confident person you can be.
6. Get out in nature every day and go for a half hour walk! Being out in nature helps to lift your spirits and see things in more positive, optimistic ways. Walking a half hour three times a week is said to be comparable to taking an antidepressant, minus all the negative side effects.
7. Keep a journal of what you are grateful for every morning and night. By simply taking the time to notice what you are thankful for in your life, everything in your life will start to flow a little bit easier.
8. Decide what you want most in your life and imagine already having it. Your imagination is a very powerful tool. When you utilize all of your five senses to imagine already having the life you want, your unconscious mind begins working to manifest your dreams into reality.
9. Ask your Higher Power for divine help to make your life what you want it to be. Simply talk to your Higher Power in your mind and ask for help and guidance in your life and then watch and see what happens. It's fun to watch the serendipitous ways your Higher Power brings that about.
10. Practice laughing every day! If you've forgotten how to laugh, imagine yourself laughing every day until it naturally starts to happen. It's hard to stay depressed when you are laughing regularly. Just practicing laughter, itself, could help you wake up one day as a happy, optimistic person!
To understand and release your depression more quickly and easily, click on Store to read my book Choosing Light-Heartedness or sign up for my 33-Day Light-Heartedness E-Letters. You'll love the difference they make in your life!
Leave a Comment or a Question
I'd love to hear your comments and questions.
Have you experienced anything like this in your life?
What would you like to hear more about?
Sign Up Today to Receive Kari's Future Blog Posts
If you have enjoyed this post, you can sign up today to receive Kari's future posts in your email. Just fill in your name and e-mail address in the blue and white box on the upper right column above Kari's picture and we'll be very happy to notify you when the next post is ready!
More Information
For more information, you may also enjoy reading some of Kari's other Blog Posts like:
How to Practice the JoyIAm Process
Conquer Anxiety through Personal Power
Replace Your Isolation or Loneliness with Healthy Connections
Why does Emotional Healing Transform Your Life?
50 Long-Term Benefits of Emotional Healing