Marriage Counseling
Marriage is often the most challenging relationship you'll ever experience. In most relationships, when you feel hurt or abused, or when things don't go well, you can simply walk away and choose not to spend time with that person anymore.
Marriage is a different situation, however, because you've made a commitment to yourself and to your partner to work through your differences, even when the going gets tough.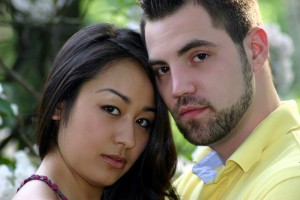 Healthy Communication and Conflict Resolution Skills
Often the most important part of Marriage Counseling is learning healthy communication and conflict resolution skills. None of us learned healthy ways of communicating our feelings as a child, because the knowledge of healthy communication was simply not available at that time. Instead we learned the old 'attack and defend' model, where someone feels attacked and defends back and the other person does the same until the argument becomes ugly and unkind.
It helps tremendously to have a safe place to practice healthy communication and conflict resolution skills. When you practice regularly in the presence of a compassionate mediator, it becomes much easier to integrate your new skills into your everyday life.
Laugh and Have Fun in Your Marriage 
The goal of marriage counseling is to clear the air, learn healthy communication, resolve your differences and then learn to laugh and have fun again. A marriage that doesn't include heart-to-heart communication and regular laughter and fun is not a healthy marriage.
Kari Joys loves to help you resolve your issues so that you can laugh and have fun again. You'll find that in Kari's presence, it becomes much easier to see your partner through the eyes of love.
Afraid of Marriage Counseling?
If you feel scared about going to marriage counseling, you are not alone! Most people are afraid of opening up and baring their hearts and souls to a total stranger. Obviously it's always a risk to find out if the counselor or psychotherapist you have chosen is actually skilled or qualified to help you.
Kari Joys has done Marriage Counseling for over twenty years. Most clients who work with her are very happy and relieved to find her because she is gentle, kind and compassionate in her counseling and she is very fair in working with both you and your partner. You'll find that Kari is very dedicated to helping you improve your marriage. When both partners are open and willing to do their part, Kari's success rate with Marriage Counseling is very high.
Schedule a Counseling Session in Spokane!
Kari Joys has done marriage counseling for over twenty-five years. She is very fair, gentle and compassionate in helping you resolve your couples issues. Kari's success rate for marriage counseling is very high when both partners are willing to participate and do their part.
Kari Joys' office is based in Spokane, Washington. When you are ready to schedule, click on Schedule to contact Kari directly. If you're not able to work with Kari personally, click on Store to learn more about Kari's available products. Kari's Emotional Healing could literally save you months and years of traditional counseling.
If you would like counseling for Couples, Marriage, Family, or Divorce, please click on the specific links. If you want psychotherapy for Stress, Anxiety, Depression, or Abuse Issues, please click on those. If you'd like to learn more about Emotional Healing, EMDR or the Yuen Method, you can also click on those pages.
More Information
For more information, you may also enjoy reading some of Kari's Blog posts;
The Verbally Abusive Relationship
21 Questions to Avoid a Painful Divorce
A Marriage Counselor's 10 Best Tips
Help the Man You Love Express His Feelings
100 Best Psychology/Self-Help Books