If you were like most children when you grew up, you probably thought your family was 'normal.' That's because children believe that whatever they experience is 'normal.' They have no frame of reference to compare it against.
.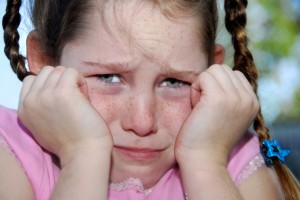 I was definitely one of those children. I thought all fathers were angry and abusive. I thought everyone had older siblings who teased them unmercifully and laughed at their expense. I thought it was common to cry all the time and never be comforted or protected. It never occurred to me that my family was dysfunctional at the time. I thought that there was just something very wrong with me.
Surviving Emotionally
I went through my childhood and my adolescence just trying to survive emotionally in the best way I could. I became a 'pleaser' in an effort to feel loved. I worked hard to do the chores that were asked of me at home, so that I would belong and feel accepted. I did my best to excel in my class at school so that I would be noticed and approved of.
Yet more than anything, I just wanted to feel loved unconditionally. I wanted to know that someone thought I was lovable and that I had value and worth. I wanted to feel happy and excited and enjoy my life.
Becoming Depressed
I made it thought high school and college before I became completely depressed. At that time, I couldn't find a job I liked even though I had graduated from college with honors. I was in a relationship with someone I thought I loved, but that relationship was clearly not working. I began questioning the meaning of life and wondering if it was all worth it.
Luckily I had an older brother who realized I was depressed and got me into a therapy group. That therapy group was a huge turning point in my life. I learned that I could express my feelings, and that when I did that, I felt lighter and happier. I began to realize that there was a reason for my depression and that perhaps my family was not as 'normal' as I had previously believed.
94% of Families are Dysfunctional
After I started to get better, I decided to become a psychotherapist and help others who were struggling emotionally, like I had struggled in the past. During that time, I read every book I could find on psychotherapy and I learned that 94% of families are actually 'dysfunctional.'
The concept of 'dysfunctional families' was still a new idea at that time. The field of psychology was still learning about what caused the psychological problems and issues that many people were struggling with.
Defining a Dysfunctional Family
Still today, in my work as a psychotherapist, I find that many of my clients don't understand the meaning of a 'dysfunctional family.' For that reason, I've created a definition of a dysfunctional family that will make it easier for you to understand.
A family becomes dysfunctional:
When the unresolved emotional issues of one or both parents negatively affect the children
When there is abuse, neglect, addiction, trauma, poverty, long-term illness, incarceration, unhealthy control, etc.
When there is a lack of bonding, nurturing, protection and kindness
When children's feelings are not respected and their needs are not honored
When there is poor communication or a lack of healthy conflict resolution
When there is a lack of positive role modeling or healthy emotional guidance
Is Your Family Dysfunctional?
I've jokingly said that if 94% of families are dysfunctional, the other 6% are probably lying. That's because no family is perfect. Every family has issues.
Certainly some of the family issues people experience are much more damaging than others. But if you want to get healthy emotionally, it certainly helps to face the truth about your family's dysfunction, no matter how small it may seem in comparison to others.
Fortunately we have much more awareness about children's emotional needs today than there was in the past. Families today can make a conscious effort to respect their children's feelings and honor their children's needs. Yet, if parents have not had the opportunity to heal their own childhood wounds, it's likely that those emotional wounds will somehow affect their children.
Transforming Your Life
Following the growth path is all about facing and overcoming how your own dysfunctional family affected you. The good news is that it's never too late to transform your life!
Simply becoming aware of what happened is a very important step towards healing. Thich Nhat Hanh said, "Awareness is like the sun. When it shines on things, they are transformed."
Leave a Comment or a Question
I'd love to hear your comments and questions.
Have you experienced anything like this?
What would you like to hear more about?
Sign Up Today to Receive Kari's Future Blog Posts
If you have enjoyed this post, you can sign up today to receive Kari's future posts in your email. Just fill in your name and e-mail address in the blue and white box on the upper right column above Kari's picture and we'll be very happy to notify you when the next post is ready!
More Information:
For more information, you may also want to read some of Kari's other posts:
10 Simple Ways to Love Yourself
Conquer Anxiety Through Personal Power
10 Tips for Creating a Better Life for Yourself
The Surprising Health Benefits of Laughter
Stay Stress-Free and Light-Hearted During Tough Times