People who have anxiety disorder often have sudden and repeated periods of fear that last for several minutes. These symptoms are called panic attacks. Panic attacks happen when someone has a fear of disaster or losing control, even when there is no real danger.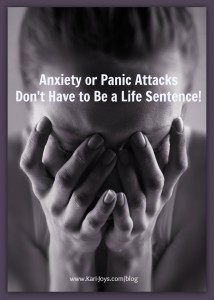 Panic attacks often have very severe physical symptoms. Anyone who has experienced a panic attack knows how frightening and overwhelming they can be.
Symptoms of Panic Disorder
According to the National Institute of Mental Health (http://www.nimh.nih.gov), people with panic disorder may have:
Sudden and repeated attacks of fear
A feeling of being out of control during a panic attack
An intense worry about when the next attack will happen
A fear or avoidance of places where panic attacks have occurred in the past
Physical symptoms during an attack, such as a pounding or racing heart, sweating, breathing problems, weakness or dizziness, feeling hot or a cold chill, tingly or numb hands, chest pain, or stomach pain.
Check with Your Physician
Some people who are experiencing panic feel like they're having a heart attack and others report wanting to just crawl out of their skin.
If you're afraid of having a medical condition, you should always, of course, check with your physician. But if you've been diagnosed with panic attacks, don't despair! There is definitely something you can do!
Information to Remember
There are some things to remember that will help you during a panic attack. You may want to copy them and keep them in your wallet so you have them with you wherever you go.
Having panic attacks does not mean that you are mentally ill.
Panic attacks don't mean that you are a weak person.
The attacks won't harm you even though they feel scary and overwhelming.
Panic doesn't lead to life-threatening conditions.
Panic attacks won't stop your breathing.
Panic only lasts for a few minutes, before your body naturally switches over to letting go.
Panic attacks come from a fear of fear.
You're safe—the sensations are wild, but no harm will come to you.
Treatment for Panic Attacks
It's very important talk to yourself positively when having a panic attack. Here are some helpful things you can say to yourself:
I'm going to be okay!
These attacks never last longer than a few minutes.
Nothing bad is going to happen.
It's safe for me to let go of control.
It's just my body having a physical reaction.
Even though I'm feeling scared, I totally love and accept myself.
There are also helpful things you can do:
Remind yourself to breathe slow and easy.
Count backwards slowly from 100 to 1 and keep telling yourself the attack will be completely done before you reach 1.
Think of someone who loves you, or someone you love dearly, and focus on a happy time you had together.
Or simply distract your mind and think of something else that makes you feel good.
How to Overcome Your Panic and Anxiety
Anxiety and panic originate from difficult experiences in your life where you were not able to express and release your feelings. When too many feelings are held in over time, they begin to fester inside and create challenging symptoms like depression or anxiety.
The JoyIAm Process is an alternative psychotherapy process that allows you to express and release the feelings you have repressed throughout the years of your life. By expressing and releasing your feelings, little by little over time, your symptoms of panic and anxiety will begin to decrease. Before long you will begin feeling much more relaxed, peaceful and light-hearted.
When your symptoms decrease, it's important to also begin to practice some healthy living skills, like how to have healthy relationships, how to set clear boundaries and how to practice good communication and win/win conflict resolution. By learning and growing, you can become the confident, self-assured person you've always wanted to be. To learn more, please visit my post Conquer Anxiety through Personal Power.
Leave a Comment or a Question
I'd love to hear your comments and questions.
Have you experienced anything like this in your life?
What would you like to hear more about?
Sign Up Today to Receive Kari's Future Blog Posts
If you have enjoyed this post, you can sign up today to receive Kari's future posts in your email. Just fill in your name and e-mail address in the blue and white box on the upper right column above Kari's picture and we'll be very happy to notify you when the next post is ready!
More Information:
For more information, you may also want to read some of Kari's other posts:
Conquer Anxiety Through Personal Power
Stay Stress-Free and Light-Hearted During Tough Times
10 Tips for Creating a Better Life for Yourself
The Surprising Health Benefits of Laughter
10 Tips to Reduce Your Stress With Change
100 Best Psychology/Self-Help Books