One of the things I love to do is to share books that I find inspiring with people that I care about. That's why I have a special treat for you today.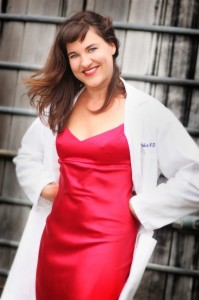 It's a beautiful book that just came out last week by a non-conventional physician named Dr. Lissa Rankin, called Mind Over Medicine: Scientific Proof That You Can Heal Yourself
.
Getting off of Medications
Dr. Lissa Rankin started by healing her own body. When she began her research, she was taking 7 medications, getting weekly allergy shots, and she had undergone surgery on her cervix.
Yet, despite all the medical interventions, her blood pressure was still out of control, her allergies were so bad she could hardly leave her home, her heartbeat was skipping and her cervix was still showing precancerous changes, even after her surgery. She described her condition as a "hot mess on the way to an early heart attack," and says that her doctors didn't know what to do with her.
Lissa's journey back to health involved much growth and change, but one-by-one, she was able to get off of almost all of her medications, and her health conditions either completely resolved or drastically improved.
Lissa's book is full of beautiful stories of people who have healed themselves from many life-threatening illnesses. She studied research from many different sources to find that there really is scientific proof that our bodies know how to heal themselves.
Healing Your Mind, Body and Spirit
Lissa's research covered all the normal areas of healing body, mind and spirit, like eating healthy foods, doing regular exercise and taking vitamins and herbs. Lissa says, "The body is a miracle waiting to happen if only we optimize it's ability to do what it's made to do naturally."
She says our body whispers to us about what's wrong in our lives long before our health breaks down. She encourages readers to listen to those body whispers, in order to avoid the bigger health challenges like heart attacks and strokes that come when your body is yelling to you.
Being Authentic
The part of Dr. Lissa Rankin's book that was surprising was how much emphasis she put on being authentic and listening to your own intuition. She says that it's not only our nutrition and exercise that affect out health, but it's whether we are living authentic lives and whether we are listening to our own intuition about what is good for us and what isn't.
She says that loneliness, or unhealthy relationships, or working too much affects your body's physiology more negatively than smoking or eating white sugar and white bread. She suggests making dramatic life changes that allow your body to come back into balance so that it can heal itself, rather than immediately choosing medications and surgeries.
Lissa also says that it's very important to release unresolved feelings from the past and learn to express your feelings authentically in your life today. In her own story of healing, she described how important it was to be honest and authentic about her true feelings to the people who were important in her life.
Finding Supportive Health Care
Dr. Lissa Rankin doesn't suggest that you can heal yourself with no help from physicians, psychotherapists or alternative medicine practitioners. She encourages you to find help and support from health professionals who will share their expertise with you, but honor your own intuition for putting the knowledge into practice in your life. She says that nurturing health care is definitely an important part of bringing about healing.
She suggests writing an agreement with your physician or your health care practitioners that acknowledges, first of all, that you are equals, that your voice is important in the healing process, and that for healing to happen, you need to be honest with each other. She offers a possible Doctor-Healer-Patient Agreement at her website at http://lissarankin.com/.
How to Make Your Body Ripe for Miracles
One of the research studies that Dr. Rankin described was done by Kelly Turner, a Ph.D. student at the University of California in Berkeley. Kelly Turner traveled the world to conduct 70 interviews with people who had experienced 'spontaneous remissions' from the dreaded disease of cancer.
Kelly identified more than 75 treatments for cancer, but 6 of them were very frequent among all of the 70 subjects. Here are the 6 treatments she found most common:
Changing your diet: Most healers recommended eating a diet consisting mostly of whole vegetables, fruits, grains and beans, while eliminating meat, sugar, dairy and refined foods.
Experiencing a deepening of spirituality: Many people Kelly interviewed discussed feeling an internal connection to loving, divine energy.
Feeling love, joy or happiness: Other people credited their healing to increased love and happiness in their lives.
Releasing repressed emotions: Many people who were interviewed believed it was important to release negative emotions like fear, anger and grief.
Taking herbs or vitamins: Herbs and vitamins were believed to detoxify the body and boost immune systems.
Using intuition: Most people interviewed talked about the importance of following their intuition in their healing journey.
Why I LOVE this Book
I've been interested in the mind-body-spirit connection for many years. I've read many books on this topic to gain insight into how to keep myself healthy and how to best help my clients in their healing.
I LOVE Dr. Rankin's book for several reasons:
I LOVE that she wrote her book by sharing her own vulnerability, not just by taking the 'powerful doctor' role.
I LOVE the emphasis on allowing your body to heal itself rather than immediately taking medications or doing unnecessary surgeries.
Although I know that exercise and healthy foods are vitally important for our body's heath, I LOVE that Dr. Rankin validates the importance of living a healthy, balanced life in all areas, including being authentic, developing supportive relationships, pursuing your spirituality, following your intuition, experiencing healthy sexuality, and pursuing laughter and play.
I LOVE that she respects her 'patients' as equal human beings who have the right to listen to their own intuition and do what they believe is best for them in their healing process. If only we had more physicians who would join her in promoting equality and respect in health care!
Buy the Book
Get your copy of 'Mind Over Medicine' at Amazon.com, by clicking:
Mind Over Medicine: Scientific Proof That You Can Heal Yourself
If you're interested in achieving long-term health and vitality the natural way, I know you'll enjoy reading it.
Leave a Comment or a Question
I'd love to hear your comments and questions.
What are your experiences with health and healing?
What do you find most beneficial for bringing healing into your life?
What would you like to hear more about?
Sign Up Today to Receive Kari's Future Blog Posts
If you have enjoyed this post, you can sign up today to receive Kari's future posts in your email. Just fill in your name and e-mail address in the blue and white box on the right and we'll be very happy to notify you when the next post is ready!
More Information:
For more information, you may also want to read some of Kari's other posts:
Unresolved Emotions Cause Long-Term Health Problems
Replace Loneliness and Isolation with Healthy Connections