Family Counseling
Family counseling can be a very valuable experience. When two or more members of a family agree to communicate openly and resolve old hurts and differences in a healthy way, it is often a very rewarding experience. Honesty and sincerity in family counseling gives all of you the opportunity to become much more loving and supportive of each other and actually enjoy spending time together.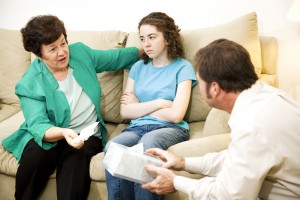 The Impact of Your Dysfunctional Family 
All of us came from dysfunctional families. The question is not whether your family was dysfunctional; it's how dysfunctional was it? Did you experience abandonment, abuse or neglect in your family of origin? Were you guided and supported to become your true self? Were you encouraged to express your feelings in healthy ways and work out your differences openly?
The field of Psychology has only recently become aware of the impact our dysfunctional families have on our long-term emotional health. Because of that, the emotional damage we experienced was often unintentional. Even when our parents had the best of intentions, they generally didn't have the knowledge or skills to help us develop healthy emotional habits, because they, themselves, had unresolved emotional issues.
Today we have the opportunity to resolve the emotional damage we experienced and develop loving, healthy relationships with our immediate family members. We just have to be willing to take responsibility for our own issues and hold the intention to be loving and respectful; then little by little, our family relationships can improve.
Family Counseling with Kari Joys MS
It helps tremendously to have an unbiased mediator and guide to help you learn healthy family relationship skills. Kari Joys has worked with family counseling for many years. She loves to guide you and your family through the process of achieving more clarity and harmony with each other. When you work with Kari, you can expect to experience kindness, compassion and understanding while she facilitates you and your family members to have healthier, happier relationships with each other.
Kari Joys has done family counseling for over twenty-five years. She is very fair, gentle and compassionate in helping you resolve your couples issues. Kari's success rate for family counseling is very high when all family members are willing to participate and do their part.
Schedule a Counseling Session in Spokane!
Kari Joys' office is based in Spokane, Washington. When you are ready to schedule, click on Schedule to contact Kari directly. If you're not able to work with Kari personally, click on Store to learn more about Kari's available products. Kari's Emotional Healing could literally save you months and years of traditional counseling.
If you would like counseling for Couples, Marriage, Family, or Divorce, please click on the specific links. If you want psychotherapy for Stress, Anxiety, Depression, or Abuse Issues, please click on those. If you'd like to learn more about Emotional Healing, EMDR or the Yuen Method, you can also click on those pages.
More Information
For more information, you may also enjoy reading some of Kari's Blog posts;
The Verbally Abusive Relationship
A Marriage Counselor's 10 Best Tips
Help the Man You Love Express His Feelings