Emotional Healing
Emotional Healing is an alternative healing method that brings you back in touch with your true, authentic self. It utilizes your body's natural way of releasing the emotional pain from difficult experiences in your life.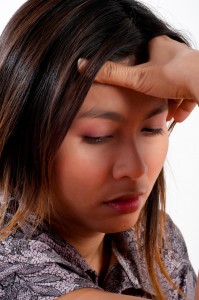 Emotional Healing involves learning to identify, express and release your feelings, so that you naturally come back to love and peace inside yourself. Usually it begins with getting in touch with tears or anger that you've been holding back and generally it ends with laughing and having fun.
Expressing Feelings
We have come to realize that when you don't express your feelings in healthy ways, they get stored up in your unconscious mind. If you continue storing up your feelings for too long, they can cause emotional issues and challenges, like anxiety or depression.
Have you ever witnessed someone who burst into tears or had an angry out-burst for no apparent reason? What most of us don't understand is that there is always a reason when someone's emotions boil over and cause problems in his or her life.
The reason is generally simple: the person who is crying or angry has probably been holding their feelings back for too long. To overcome the need for emotional outbursts, he or she just needs to honor the feelings and learn to express them in healthy ways.
Surprised and Overwhelmed
When you begin the process of learning about Emotional Healing, you may feel surprised and overwhelmed at the same time.
It can be very surprising to discover that the truth you've been searching for all your life is very simple and that it was always right there in front of you. You may wonder why you didn't realize it before.
Yet, when you discover this truth and begin to think about the changes you'll need to make, you could easily feel frustrated and overwhelmed with the effort you think it will take to make those changes.
Just realize that either response is very normal. It feels wonderful to find a solution to your problem, but it takes work and practice to change habit patterns that you've been doing for a lifetime.
Practicing Emotional Healing
Emotional Healing helps you to free yourself from emotional issues and symptoms that you've carried for a lifetime, but it is not a one-time experience. It requires regularly releasing your negative feelings and learning how to bring yourself back to joy and inner peace.
It also involves paying attention to your everyday thoughts, beliefs and expectations. When you practice Emotional Healing, you learn to release your negative feelings and thoughts and reprogram your mind with positive thoughts, beliefs and expectations.
Schedule a Counseling Session in Spokane!
Kari Joys utilizes her process of Emotional Healing to help you release your stress, anxiety, depression or abuse issues and replace them with joy, inner peace and light-heartedness. When you do Emotional Healing, you'll discover that you do have personal power and you can choose to make your life what you want it to be.
Kari Joys' office is based in Spokane, Washington. When you are ready to schedule, click on Schedule to contact Kari directly. If you are not able to work with Kari directly, click on Store to order her book Choosing Light-Heartedness or her 33-Day Journey to Light-Heartedness E-Course. Kari's Emotional Healing process could literally save you months and years of traditional therapy!
If you would like counseling for Couples, Marriage, Family, or Divorce, please click on the specific links. If you want psychotherapy for Stress, Anxiety, Depression, or Abuse Issues, please click on those. If you'd like to learn more about Emotional Healing, EMDR or the Yuen Method, you can also click on those pages.
More Information
For more information, you may also enjoy reading some of Kari's Blog posts like:
Why the JoyIAm Process Far Surpasses Medications
The JoyIAm Integrated Psychotherapy Process
50 Long-Term Benefits of the JoyIAm Process
How to Practice Emotional Healing
Conquer Anxiety Through Personal Power