Intimacy isn't just sexuality! True intimacy begins with deep emotional connection and then blossoms out into friendship or intimate sexuality, depending on whom you're connecting with.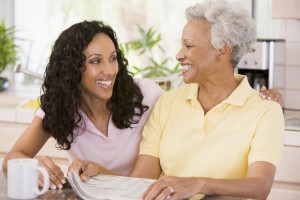 It can be just as satisfying to connect deeply with a dear friend
as it is to connect with an intimate partner,
when you're both sharing your true self with each other.
The word intimacy can be broken down into four parts 'in to me see.' That means in order to have true intimacy you have to allow someone to see who you really are. People often have fears of emotional intimacy. Allowing someone to see who you really are means taking the risk of being criticized, judged or rejected.
Yet, in spite of our fears, we all long for deep emotional connection. Sharing our real feelings with someone in a non-threatening way is often a good way to establish that deep emotional connection with them. For those of you who are ready to take that risk, I've put together 6 tips that will assist you in that process.
6 Tips for Emotional Intimacy in Relationships:
1. Share your feelings instead of your opinions. No two people who are honest with each other ever see the world the same way. Everyone has their own opinion, based on their background and their life experience. Opinions are what separate us and feelings are what bring us together.
2. Use 'I-messages' instead of 'you-messages.' When you say "You should feel like I do," or "You should do what I believe is right," your partner will hear it as control and shut you out of their heart. But when you say "I feel sad" or "I feel excited," your partner is much more likely to open their heart and want to hear you.
3. Ask open ended questions and listen without interrupting. Healthy relationships require that both partners really listen to each other. If your partner starts to talk and you interrupt them or make them wrong in some way, they'll probably shut you out.
4. Paraphrase back what you heard with feeling words. For example "When you talk about your job, you sound frustrated and overwhelmed." Then let your partner tell you whether you heard them accurately or not. Paraphrasing back what you hear helps you both to slow down and really understand each other.
5. Treat everything your partner shares with you as sacred ground! Never, ever use your partner's vulnerable feelings against them when you're angry. Your relationship could be permanently damaged by doing that. When someone shares their heart with you, always treat their feelings with the utmost love and respect!
6. Be sure to share your joy and laughter as well as your challenges. No one wants to be serious all the time. If you want a deep connection, it's very important to share the good things that happen to you and the funny things that make you laugh. Laughing together can be just as bonding as crying.
Leave a Comment or a Question
I'd love to hear your comments and questions.
Have you experienced anything like this in your life?
What would you like to hear more about?
Sign Up Today to Receive Kari's Future Blog Posts
If you have enjoyed this post, you can sign up today to receive Kari's future posts in your email. Just fill in your name and e-mail address in the blue and white box on the upper right column above Kari's picture and we'll be very happy to notify you when the next post is ready!
More Information
For more information, you may also want to read:
The Verbally Abusive Relationship
21 Questions to Avoid a Painful Divorce
A Marriage Counselor's 10 Best Tips
Help the Man You Love Express His Feelings