Overcome Your Depression!
Depression can sometimes feel like a life sentence, like you're trapped inside a body and there's no way out. That's very understandable! Kari Joys became a therapist because she was once depressed herself. When she got better, she wanted to help others experience the joy and light-heartedness that she had found.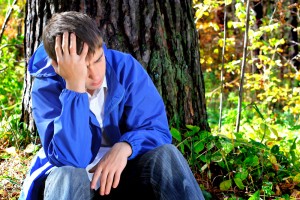 The Root Cause of Your Depression
There is always a root cause for why you are depressed. It doesn't happen by accident. Often depression stems from a series of negative experiences in your life often starting in your childhood, where your feelings and needs just didn't seem to matter to the people around you. Maybe they were too busy with their own issues and their own problems to really care about you and your life.
You may still feel very sad and hurt deep inside, and still wonder if you really do matter as a person, or if anyone really cares. All the doctors and pills in the world don't take the place of that one caring human being who genuinely feels compassion for you and wants you to be happy.
Depression is not a life sentence!
Kari Joys utilizes an emotional healing process to help you release depression. Emotional healing does require some time, patience and persistence on your part, but the process itself is very freeing and empowering. Kari has helped hunderds of people overcome depression in the past. Those people are now leading happy healthy lives. Kari can definitely make the process of releasing your depression quicker and easier for you.
Schedule a Counseling Session in Spokane!
Kari Joys is skilled and experienced with helping you to identify the true causes of your stress and how you feel about them. She will guide and facilitate you to express and release your feelings in healthy ways. Kari will also help you find the answers within yourself that you have been looking for.
Kari Joys' office is based in Spokane, Washington. When you are ready to schedule, click on Schedule to contact Kari directly. If you are not able to work with Kari directly, click on Store to order her book Choosing Light-Heartedness or her 33-Day Journey to Light-Heartedness E-Course. Kari's Emotional Healing process could literally save you months and years of traditional therapy!
If you would like counseling for Couples, Marriage, Family, or Divorce, please click on the specific links. If you want psychotherapy for Stress, Anxiety, Depression, or Abuse Issues, please click on those. If you'd like to learn more about Emotional Healing or the Yuen Method, you can also click on those pages.
More Information:
For more information, you may also enjoy reading some of Kari's Blog posts:
Replace Your Isolation and Loneliness with Healthy Connections
Why does Emotional Healing Transform Your Life?
50 Long-Term Benefits of Emotional Healing
10 Simple Ways to Love Yourself