Couple's Counseling
When we enter a couples relationship, it often begins with a honeymoon stage wherewe see each other through rose-colored glasses and we feel incredibly happy. During this stage of our couples relationship, we think we've found the love of our lives who will finally make us happy, like no one has ever done before.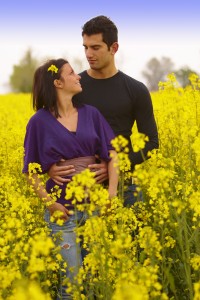 Unfortunately, the honeymoon stage of a couple's relationship generally only lasts for two months to two years. At that point, we wake up one morning and realize that our partner is human and s/he has human problems and faults, just like everyone else we've known in our lives. This can be very disappointing and sometimes it brings about the end of the relationship, but when you look at it in another way, it can also be the beginning of a deeper, more fulfilling love.
What is a Healthy Couple's Relationship?
When you are emotionally healthy, you realize that your partner cannot make you happy. Your happiness comes from inside you and it's always your job to do the emotional healing work necessary for you to have a happy, fulfilling life. When you are taking good care of your own emotional health, it then becomes much easier to have a happy, healthy couple's relationship.
A healthy couple's relationship involves listening, sharing, caring, kindness, empathy, compassion and understanding, as well as spending time together and doing mutually enjoyable activities. When a couple knows how to laugh and have fun together, their relationship will obviously be much more happy and fulfilling.
Problems in Couple's Relationships
Problems in couple's relationships occur in many ways:
When there is dishonesty or lack of integrity
When there is addiction to alcohol, drugs, food, gambling, internet, sex, work, money or shopping
When there is poor communication or poor conflict resolution
When one partner doesn't keep his or her agreements
When chores or responsibilities are not equally divided 
Schedule a Counseling Session in Spokane!
Kari Joys has done couples counseling for over twenty-five years. She is very fair, gentle and compassionate in helping you resolve your couples issues. Kari's success rate for couple's counseling is very good when both partners are willing to participate and do their part.
Kari Joys' office is based in Spokane, Washington. When you are ready to schedule, click on Schedule to contact Kari directly. If you're not able to work with Kari personally, click on Store to learn more about Kari's available products. Kari's Emotional Healing could literally save you months and years of traditional counseling.
If you would like counseling for Couples, Marriage, Family, or Divorce, please click on the specific links. If you want psychotherapy for Stress, Anxiety, Depression, or Abuse Issues, please click on those. If you'd like to learn more about Emotional Healing, EMDR or the Yuen Method, you can also click on those pages.
More Information:
For more information, you may also enjoy reading some of Kari's Blog posts:
A Marriage Counselor's 10 Best Tips 
The Verbally Abusive Relationship
21 Questions to Avoid a Painful Divorce
Help the Man  You Love Express His Feelings