Release Your Anxiety!
You may believe that being free of anxiety is a wonderful idea that's just too good to be true. When you've lived a lifetime feeling anxious and scared, the thought of being free of that anxiety is like a dream that's dangling in front of you, but always just out of your reach. That's very understandable!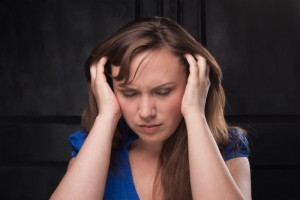 Anxiety is just the negative feelings from your past
projected onto your future.
Anxiety can manifest in many ways. It can show up as excessive worry, fear, stress, shakiness, panic attacks, phobias, fear of vulnerability, a need to control others or be in control of your environment, or just feeling stuck and unable to move forward. No matter how it looks, it always comes back to an underlying fear of your future being like your past.
Anxiety Recovery
When you resolve your emotional pain about the past, take back your personal power and make the changes you need to make, with time and persistence your anxiety will gradually decrease. You'll feel less worried, scared and shaky, your panic attacks will decrease until they go away completely, and you won't have to always be in control to feel safe and secure. When your anxiety issues are released, you'll discover a new sense of yourself that will excite you and amaze you! Often it feels like being a whole new person!
It's true! You don't have to spend the rest of your life feeling anxious and scared. You can take charge of your life today and make it what you want it to be!
Schedule a Counseling Session in Spokane!
Kari Joys utilizes a process of emotional healing to help you release your anxiety. Doing emotional healing will take some time, patience and persistence on your part, but the process itself is very freeing and empowering. When you do emotional healing, you'll discover that you do have personal power and you can choose to make your life what you want it to be.
Kari Joys' office is based in Spokane, Washington. When you are ready to schedule, click on Schedule to contact Kari directly. If you are not able to work with Kari directly, click on Store to order her book Choosing Light-Heartedness or her 33-Day Journey to Light-Heartedness E-Course. Kari's Emotional Healing process could literally save you months and years of traditional therapy!
If you would like counseling for Couples, Marriage, Family, or Divorce, please click on the specific links. If you want psychotherapy for Stress, Anxiety, Depression, or Abuse Issues, please click on those. If you'd like to learn more about Emotional Healing, EMDR or the Yuen Method, you can also click on those pages.
More Information:
For more information, you may also enjoy reading some of Kari's Blog posts:
Conquer Anxiety through Personal Power
Replace Your Isolation or Loneliness with Healthy Connections
Why does Emotional Healing Transform Your Life?
50 Long-Term Benefits of Emotional Healing
10 Simple Ways to Love Yourself