Welcome Media!
Kari Joys MS is a best-selling author, a compassionate, highly-respected psychotherapist and the Director of the Center for Creative Change in Spokane, Washington. She is the author of the best-selling book Choosing Light-Heartedness and the Journey to Light-Heartedness E-Course.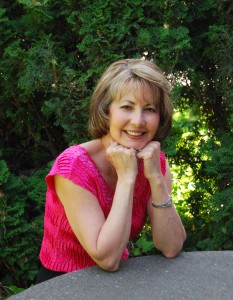 This media veteran has been a guest on ABC and NBC TV News programs, appeared on numerous radio shows around the country and been quoted in Women's World Magazine.
Suggested Media Topics
Can Emotional Damage from Childhood Be Undone? Kari Joys says "Yes!" With the simple tools and techniques from her book Choosing Light-Heartedness, no one needs to remain the product of a dysfunctional family!
Wake Up Calls: Did you know that a painful divorce, a job loss, a serious illness or a family crisis could actually be an incredible opportunity to change your life for the better? Kari provides healthy tools for turning an overwhelming crisis into an opportunity for life transformation!
Healing Depression and Anxiety Naturally: ABC News says that 16 million Americans are on anti-depressants at any given time. Anti-depressants a now a multi-billion dollar industry! Kari discusses the overuse of anti-depressant medications and the lack of education for emotional healing.
Help the Man You Love Learn to Express His Feelings! Men do have feelings! Kari can teach the women in your audience how to create a safe, supportive environment for men to share their deepest feelings.
How to Keep Your Kids off a Psychotherapist's Couch! Kari demonstrates 8 tips for avoiding long-term psychotherapy for your children!
Possible questions to ask on your media show:
1. Why did you write Choosing Light-Heartedness?
2. Can you describe the process of Emotional Healing that you discuss in Choosing Light-Heartedness? Is laughter and light-heartedness a part of it?
3. Oprah has stated that 18 million Americans are depressed. Do you believe that people who are suffering from depression or anxiety can overcome those symptoms entirely?
4. ABC News reports that 16 million Americans are on anti-depressants at any given time. What are your feelings about anti-depressants?
5. What are some natural things people can do to achieve on-going happiness?
6. I know your book Choosing Light-Heartedness and your Journey to Light-Heartedness e-course are available to our listeners right now. Can you tell us where to find your website?
Media Experience
Kari was a weekly guest on the Spokane, Washington ABC TV Daytime News Show in 1998-1999 discussing counseling issues and taking calls from television viewers.
Kari's book "Choosing Light-Heartedness" recently sparked more media interest. Kari was quoted in Women's World Magazine, the Buffalo News, the Spokesman Review and IN-Health Northwest.
Talk radio shows throughout the "US and Canada include the Susie Barbour Show on KDKA Radio in Pittsburgh, the Frankie Boyer Show on WBIX Radio in Boston, Sunday Morning Magazine with Rodney Lear in Cincinnati, Barbara Dooley's Show on WGAU in Atlanta and on Meg Jordan's nationally syndicated Health Talk Radio "Global Medicine Hunter."
Media Reviews
Dr. Meg Jordon, from the nationally syndicated radio show Global Medicine Hunter says "You did fantastic! I'll praise your book for years to come! Let's have you back soon. You're such a wise and wonderful woman!!"
Suzie Barbour from KDKA Radio in Pittsburgh, says "Kari, you were a delightful guest! You really did a wonderful job! Best of luck with your book! I think it's excellent!"
Tony Trupiano, former syndicated Talk Radio Show host, says "I believe in you and in this remarkable book! It transcends old belief systems and provides new techniques for healing your mind, body and soul!
Media Contact Information
To contact Kari Joys for media purposes, please call 208-765-3054, 509-534-7374 or 509-251-1340.
More Information
For more information, you may also enjoy reading some of Kari's Blog posts like:
Why does Emotional Healing Transform Your Life When Other Therapies Fail?
50 Long-Term Benefits of Emotional Healing
Conquer Anxiety Through Personal Power