If you want to become a healthy, happy person, it's important to learn about choosing the 'growth path.' The 'growth path' offers you a life of learning and growing, rather than just tolerating the life you already have and surviving.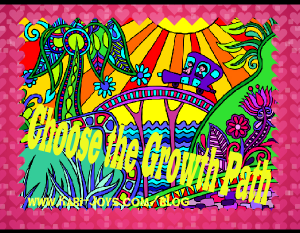 Of course, the 'growth path' is filled with obstacles and challenges, but fortunately, you'll find that behind every obstacle is a valuable life lesson that will help you become more authentically your real self.
So how can you follow the 'growth path' when things feel challenging and overwhelming around you? Great question! You see, life is full of choices. Every choice we make takes us closer to our happiness and fulfillment or further away from it.
A Definition of Personal Growth
Personal growth is choosing to become all that you can be in the world. It's about overcoming the emotional issues and symptoms in your life so that you so that you can be a stronger, healthier, happier person.
When you choose the 'growth path' in life, it simply means you are always choosing to learn and grow, no matter what situation you are in or what is going on around you. No one is perfect. We all make mistakes. But if you are willing to learn from your mistakes and try to do better next time, you can always choose better the next time you encounter a similar situation.
You see, it's not your fault that no one taught you how to live a happy, healthy life. The truth is that the emotional, psychological and spiritual knowledge we have today simply wasn't available twenty or thirty years ago.
Even if your parents were very well intentioned and really wanted you to be healthy and happy, they probably didn't know how to teach you what you needed to know. The obvious reason is that no one ever taught them.
Become Your Authentic Self
Following the 'growth path' helps you to become the person you were always meant to be. By regularly releasing the pain and negativity from your life, you begin to live from the joy and aliveness of your true spirit. When you are living from joy and aliveness, many doors begin to open in your life that were closed before.
By becoming your authentic self, you begin to speak your truth, follow your dreams and contribute to the world in a meaningful, fulfilling way. Life begins to feel exciting and magical rather than scary and depressing like it used to be.
Personal and Spiritual Growth
When you choose personal and spiritual growth, you affect everyone you come in contact with. Your family, your friends and the people you encounter in your everyday life all get to benefit from the love and joy you share on a regular basis.
By choosing the 'growth path,' not only will you create a happier, healthier life for yourself, but you'll also be able to change the lives of your children and grandchildren for centuries to come. Rather than leaving a legacy of pain and suffering, you pass on a legacy of love, peace, joy, kindness, understanding and gratitude.
It's truly amazing to see the difference that just one person who is choosing the 'growth path' can make in the world. When you regularly choose 'the growth path,' you give a gift that will keep on giving for centuries to come!
Leave a Comment or a Question
I'd love to hear your comments and questions.
Have you experienced anything like this?
What would you like to hear more about?
Sign Up Today to Receive Kari's Future Blog Posts
If you have enjoyed this post, you can sign up today to receive Kari's future posts in your email. Just fill in your name and e-mail address in the blue and white box on the upper right column above Kari's picture and we'll be very happy to notify you when the next post is ready!
More Information:
For more information, you may also want to read some of Kari's other posts:
10 Simple Ways to Love Yourself
Conquer Anxiety Through Personal Power
10 Tips for Creating a Better Life for Yourself
The Surprising Health Benefits of Laughter
Stay Stress-Free and Light-Hearted During Tough Times