Gratitude is a very important part of being a healthy, happy person. When we learn to be genuinely grateful, it opens the door for more happiness and prosperity to come into our lives.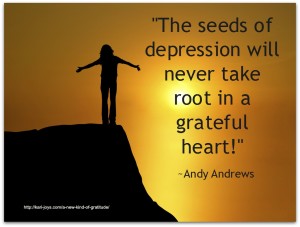 It's important to be grateful not just for the basic things in our lives, like health, family and job; but also for the more specific moments that are really special to us, like a good talk with a dear friend, a new inspiring insight or a refreshing walk on a beautiful day.
Gratitude for Our Challenges
Being thankful for what we've already received is wonderful, of course, but often we forget to also be grateful for our challenges. Our challenges are the learning tools that help us grow into bigger, better human beings.
It's often through overcoming those challenges that we learn and grow and become more fully who we are meant to be in the world. If we had no challenges, we may never develop the skills and talents that we need to fulfill our purpose in life.
Napoleon Hill, who wrote the famous book Think and Grow Rich said, "Every adversity, every failure, every heartache carries with it the seed of an equal or greater benefit."
And Neale Donald Walsh, who wrote Conversations with God said, "Life is incapable of producing an event or condition that does not carry you to the next place in your evolution."
What Did I Learn?
Think back in your life of a challenge you overcame in the past and ask yourself, "How did I learn and grow from facing that challenge? How am I different today than I would have been if I had never experienced it?"
Maybe you experienced a death or a loss in your life and you had to do some emotional healing to overcome that loss, but sharing your grief process brought wonderful new friends and experiences into your life that you wouldn't have found otherwise.
Maybe you had a business that failed and as a result you went back to school and found a new kind of work that you love even more.
Or maybe you were abused as a child and you had to go to therapy to overcome the abuse, but as a result you were then able to help other children overcome the abuse in their lives.
There are so many ways that challenges can help you become a healthier, happier human being. Karen Salmansohn, a regular columnist for OPRAH, CNN, PSYCHOLOGY TODAY, HUFFINGTONPOST and MSN, wrote "Often it's the deepest pain which empowers you to grow into your Highest Self."
Express Gratitude
So why not give it a try? Why not express gratitude for your challenges even while they are happening? Be grateful that the Universe is providing you another opportunity to use your natural talents and abilities to overcome the difficulties in your life.
Why not approach your challenges with a sense of wonder, asking "What wonderful people and experiences will come into my life as a result of this challenge?"
Gratitude Prayer
While you're being grateful, it's always good say a gratitude prayer in advance for the resolution to a challenge you're facing. You could say "Thank you, God, for helping me overcome this challenge. Thank you, too, for helping me find better solutions than I could ever imagine for myself!"
When you have faith that the Universe is already working in your life even when you can't see it, you simply speed up the process of finding resolution. You can always follow the wisdom of the beautiful Native American Proverb that says, "Give thanks for unknown blessings already on their way."
Gratitude prayers are powerful! You'll find that it's fun to watch how the resolutions to your challenges appear in your life. Of course, it's always good to follow your intuition and keep taking any actions you're guided to take, but it's very fun to watch the magical ways that the Universe contributes to that process.
God Can Do Anything!
So if you're facing big challenges, why not give thanks in advance for the resolution to whatever is challenging you the most? Remember that the Universe is so much bigger and smarter than any of us could ever be on our own.
God has new, exciting possibilities in store for you that can totally surprise you and fill your life with joy and wonder, when you simply open your heart.
The great motivational speaker Zig Ziglar said, "The more you are thankful for what you have, the more you will have to be thankful for."
Leave a Comment or a Question
I'd love to hear your comments and questions.
Have you ever tried being thankful for your challenges? What was your experience with that?
What would you like to hear more about?
Sign Up Today to Receive Kari's Future Blog Posts
If you have enjoyed this post, you can sign up today to receive Kari's future posts in your email. Just fill in your name and e-mail address in the blue and white box on the upper right column above Kari's picture and we'll be very happy to notify you when the next post is ready!
More Information:
For more information, you may also want to read some of Kari's other posts:
10 Simple Ways to Love Yourself
Conquer Anxiety Through Personal Power
10 Tips for Creating a Better Life for Yourself
The Surprising Health Benefits of Laughter
Stay Stress-Free and Light-Hearted During Tough Times
100 Best Psychology/Self-Help Books