Your marriage is in trouble. You don't know what is wrong. You want more than anything to make it work. Reluctantly, you make the appointment for marriage counseling. You show up for the first interview feeling nervous and scared.
Many questions run through your mind. Will the counselor attack you? Will s/he tell you there's no hope? Will s/he blame you for everything that went wrong? Will your partner tell you it's all over?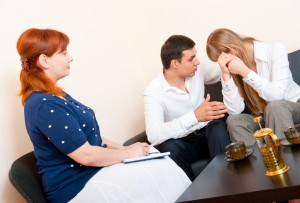 Feeling Safe and Relaxed with Marriage Counseling
Your marriage counselor welcomes you. S/he tries to make you feel safe and comfortable. S/he lets you know there is nothing to fear. You can relax and let down your guard. It's safe to cry if you need to.
The counselor's job is to help you heal the issues that can make your marriage better. S/he wants to help you understand that there are simple things you can do to make your marriage better.
There are some secrets about successful marriage that your counselor wants you to understand. S/he wants to show you that when you utilize these simple tips, everything in your marriage will improve!
Ten of your Marriage Counselor's Best Tips:
Make love, honesty, integrity and kindness the priority in your home
Take responsibility for healing your emotional wounds from the past
Compliment and appreciate each other daily
Practice healthy communication skills: listen, paraphrase, validate and empathize
Realize you don't have to be perfect; apologize quickly when you make a mistake
Share responsibilities, like children, finances or household chores
Practice win/win conflict resolution
Laugh regularly, but not at your partner's expense
Plan regular fun activities to do together
Support your partner's dreams and goals
Success with Marriage Counseling
As you begin to understand these tips and put them into practice in your life, you feel stronger and more confident. You give and receive love more easily in your marriage. You consider your partner's feelings in what you say and do, but you don't have to give up yourself in the process.
You laugh and have fun more regularly. You start to feel like this is how life should be. You thank your marriage counselor for his or her help. You promise to stay in touch. The marriage counselor's tips are now an everyday part of your life.
Leave a Comment or a Question
I'd love to hear your comments and questions.
Have you experienced anything like this in your life?
What would you like to hear more about?
Sign Up Today to Receive Kari's Future Blog Posts
If you have enjoyed this post, you can sign up today to receive Kari's future posts in your email. Just fill in your name and e-mail address in the blue and white box on the upper right column above Kari's picture and we'll be very happy to notify you when the next post is ready!
More Information
For more information, you may also want to read:
21 Questions to Avoid a Painful Divorce
Replace Isolation and Loneliness with Healthy Connections
The Verbally Abusive Relationship