Sometimes it's difficult to know what to read to support your Emotional Healing journey. Because of that, I've put together a list of 100 Best Psychology/Self Help Books that will assist you in healing naturally.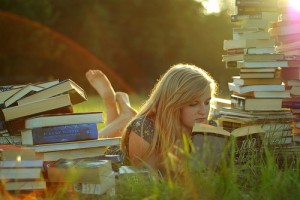 Twelve Categories of the 100 Best Psychology/Self-Help Books:
1. Healing Anxiety and Depression
2. Adult Recovery from Dysfunctional Families
3. Healing Verbal and Emotional Abuse
4. Healing Sexual Abuse
5. Energy Healing
6. Antidepressants and Natural Alternatives
7. Healthy Relationships 8. Healthy Parenting
9. Finding Happiness
10. Affirmations and Visualization
11. Spirituality
12. Positive Prayer
1. The Best Books for Healing Anxiety and Depression
Healing Anxiety and Depression
By Daniel Amen
The Anxiety & Phobia Workbook
By Edmund J. Bourne
From Panic to Power: Proven Techniques to Calm Your Anxieties, Conquer Your Fears, and Put You in Control of Your Life
By Lucinda Bassett
Feeling Good: The New Mood Therapy By David Burns
Beat the Blues Before They Beat You: How to Overcome Depression
By Robert Leahy, Ph.D.
Anxiety Free: Unravel Your Fears Before They Unravel You
By Robert Leahy, Ph.D.
Choosing Light-Heartedness, A 33 Day Journey to Overcome Anxiety, Depression and Dysfunctional Family Issues
By Kari Joys, M.S.
Anxiety Rescue: Simple Strategies to Stop Fear from Ruling Your Life
By Kathryn Tristan
Feel the Fear and Do It Anyway
By Susan Jeffers, Ph.D.
Undoing Depression: What Therapy Doesn't Teach You and Medication Can't Give You
By Richard O'Conner
Depressed and Anxious: The Dialectical Behavior Therapy Workbook for Overcoming Depression & Anxiety
by Thomas Marra
10 Steps to Take Charge of Your Emotional Life: Overcoming Anxiety, Distress, and Depression Through Whole-Person Healing
By Eva Wood M.D.
2. The Best Books for Adult Recovery from Dysfunctional Families
The Journey from Abandonment to Healing: Turn the End of a Relationship into the Beginning of a New Life
By Susan Anderson
It Will Never Happen to Me: Growing Up With Addiction As Youngsters, Adolescents, Adults
By Claudia Black
Bradshaw On: The Family: A New Way of Creating Solid Self-Esteem
By John Bradshaw
Healing the Shame that Binds You By John Bradshaw
Homecoming: Reclaiming and Championing Your Inner Child
By John Bradshaw
Adult Children of Abusive Parents: A Healing Program for Those Who Have Been Physically, Sexually, or Emotionally Abused
By Steven Farmer
Toxic Parents: Overcoming Their Hurtful Legacy and Reclaiming Your Life
By Susan Forward
Adult Children: The Secrets of Dysfunctional Families
By John Friel Ph.D. and Linda Friel
An Adult Child's Guide to What's 'Normal'
By John Friel Ph.D. and Linda Friel
Outgrowing the Pain: A Book for and About Adults Abused As Children
By Eliana Gil
The Child Abuse Recovery Workbook: Your Life is what Your Parents Made It – How to Make it Yours
By Robert Hoc
Broken Toys Broken Dreams: Understanding and Healing Codependency, Compulsive Behaviors and Family
By Terry Kellogg with M. Harrison
Healing Trauma: A Pioneering Program for Restoring the Wisdom of Your Body
By Peter Levine
The Drama of the Gifted Child: The Search for the True Self
By Alice Miller
Journey Toward Complete Recovery : Reclaiming Your Emotional, Spiritual & Sexual Wholeness
By Michael Picucci
Learning to Love Yourself: Finding Your Self-Worth By Sharon Wegscheider-Cruise
Lifeskills for Adult Children
By Janet Woititz, Ed.D and Alan Garner M.A.
3. The Best Books for Healing Verbal and Emotional Abuse
Emotional Vampires: Dealing With People Who Drain You Dry
By Albert Bernstein, Ph.D.
Healing Your Emotional Self: A Powerful Program to Help You Raise Your Self-Esteem, Quiet Your Inner Critic, and
Overcome Your Shame
By Beverly Engel
The Verbally Abusive Relationship: How to recognize it and how to respond
By Patricia Evans
Emotional Blackmail: When the People in Your Life Use Fear, Obligation, and Guilt to Manipulate You
By Susan Forward with Donna Frazier
Healing the Scars of Emotional Abuse
By Gregory Jantz, Ph.D.
Nonviolent Communication: A Language of Life
By Marshall Rosenburg
Speak Peace in a World of Conflict: What You Say Next Will Change Your World
By Marshall Rosenburg
Emotionally Free : Letting Go of the Past to Live in the Moment
By David Viscott
4. The Best Books for Healing Sexual Abuse
Surviving Childhood Sexual Abuse: Practical Self-help For Adults Who Were Sexually Abused As Children
By Carolyn Ainscough and Kay Toon.
The Courage to Heal: A Guide for Women Survivors of Child Sexual Abuse 20th Anniversary Edition
By Ellen Bass and Laura Davis
Beginning to Heal: A First Book for Men and Women Who Were Sexually Abused As Children
By Ellen Bass and Laura Davis
The Sexual Healing Journey: A Guide for Survivors of Sexual Abuse By Wendy Maltz
Safe at Last: A Handbook for Recovery from Abuse
By David Schopick
Abused Boys: The Neglected Victims of Sexual Abuse
By Mic Hunter
5. The Best Books for Antidepressants and Natural Alternatives
The Anti-Depressant Fact Book: What Your Doctor Won't Tell You About Prozac, Zoloft, Paxil, Celexa, and Luvox
By Rp.R. Breggin
The Chemistry of Joy: A Three-Step Program for Overcoming Depression Through Western Science and Eastern Wisdom
By Henry Emmons
The Antidepressant Solution: A Step-by-Step Guide to Safely Overcoming Antidepressant Withdrawal, Dependence, and
"Addiction"
By Joseph Glenmullan
Depression-Free, Naturally: 7 Weeks to Eliminating Anxiety, Despair, Fatigue, and Anger from Your Life
By Joan Mathews Larson
America Fooled: The Truth About Antidepressants, Antipsychotics And How We've Been Deceived
By Timothy Scott
Natural Prozac: Learning to Release Your Body's Own Anti-Depressants
By Joel Robertson
6. The Best Books for Energy Healing
Five Simple Steps to Emotional Healing: The Last Self-Help Book You Will Ever Need
By Gloria Arenson
Freedom at Your Fingertips: Get Rapid Physical and Emotional Relief with the Breakthrough System of Tapping
By Ron Ball with 20 EFT Experts
7 Minutes to Natural Pain Release
By Daniel Benor M.D.
The Secret of Instant Healing
By Frank Kinslow
The Healing Code
By Alex Loyd and Ben Johnson
Instant Emotional Healing: Acupressure for the Emotions
By James Pratt Ph.D. and Peter Lambrough Ph.D.
Instant Pain Elimination: How to Stop the Pain You Feel in 2 Minutes or Less
By Kam Yuen
7. The Best Books for Healthy Relationships
How to Be an Adult in Relationships: The Five Keys to Mindful Loving
By David Richo
Getting the Love You Want: A Guide for Couples, 20th Anniversary Edition
By Harville Hendrix, Ph.D.
Receiving Love: Transform Your Relationship by Letting Yourself Be Loved
By Harville Hendrix and Helen Hunt
Men Are from Mars, Women Are from Venus: The Classic Guide to Understanding the Opposite Sex
By John Grey
The Gift of Betrayal: How to Heal Your Life When Your World Explodes By Eva Wood, M.D.
Conscious Loving: The Journey to Co-Commitment
By Gay Hendricks
Fighting for Your Marriage: A Deluxe Revised Edition of the Classic Best-seller for Enhancing Marriage and Preventing Divorce
By Howard Markman
The New Intimacy: Discovering the Magic at the Heart of Your Differences
By Judith Sherven, Ph.D. and James Sniechowski, Ph.D.
Family First: Your Step-by-Step Plan for Creating a Phenomenal Family
By Dr. Phil McGraw
8. The Best Books for Healthy Parenting
Parenting With Love And Logic By Foster Cline and Jim Fay
Attachment Parenting: Instinctive Care for Your Baby and Young Child
By Katie Granju and Betsy Kennedy
Respectful Parents, Respectful Kids: 7 Keys to Turn Family Conflict into Cooperation
By Sura Hart and V. Hodson
Tapping for Kids: A Children's Guide to Emotional Freedom Technique (EFT) By Angie Muccillo
Trauma-Proofing Your Kids: A Parents' Guide for Instilling Confidence, Joy and Resilience
By Peter Levine and Maggie Kline
The Continuum Concept: In Search Of Happiness Lost By Jean Liedloff
Positive Discipline
By Jane Nelson
9. The Best Books for Finding Happiness
The Ultimate Happiness Prescription: 7 Keys to Joy and Enlightenment
By Deepak Chopra
The Art of Happiness, 10th Anniversary Edition: A Handbook for Living
By Dalai Lama
Happiness Now: Timeless Wisdom for Feeling Good FAST
By Robert Holden
ENJOY LIFE! Healing with Happiness
By Lynn d. Johnson
Emotional Freedom: Liberate Yourself from Negative Emotions and Transform Your Life
By Judith Orloff
Authentic Happiness: Using the New Positive Psychology to Realize Your Potential for Lasting Fulfillment
By Martin Seligman
Happy for No Reason: 7 Steps to Being Happy from the Inside Out
By Marci Shimnoff with Carol Kline
10. The Best Books for Affirmations and Visualization
The Spontaneous Healing of Belief: Shattering the Paradigm of False Limits
By Gregg Braden
The Power
By Ronda Byrne
Creative Visualization: Use the Power of Your Imagination to Create What You Want in Your Life By Shakti Gawain
You Can Heal Your Life
By Louise Hay
The Art of Conscious Creation: How You Can Transform the World
By Jackie Lapin
Your Destiny Switch: Master Your Key Emotions, and Attract the Life of Your Dreams
By Peggy McColl
Zero Limits: The Secret Hawaiian System for Wealth, Health, Peace, and More
By Joe Vitale
11. The Best Books for Spirituality
Guilt is the Teacher, Love is the Lesson
By Joan Borysenko
The Presence Process: A Journey into Present Moment Awareness
By Michael Brown
Alchemy of the Heart
By Michael Brown
The Ten Commitments: Translating Good Intentions into Great Choices
By David Simon, M.D.
Free to Love, Free to Heal: Heal Your Body by Healing Your Emotions
By David Simon
True Love: A Practice for Awakening the Heart
By Thich Nhat Hanh
Love Is Letting Go of Fear
By Gerald Jampolsky
Love, Medicine and Miracles: Lessons Learned about Self-Healing from a Surgeon's Experience with Exceptional Patients
By Bernie Siegel
The Power of Now: A Guide to Spiritual Enlightenment
By Eckhart Tolle
A New Earth: Awakening to Your Life's Purpose By Eckhart Tolle
A Return to Love: Reflections on the Principles of "A Course in Miracles"
By Marianne Williamson
12. The Best Books for Positive Prayer
Healing Words: The Power of Prayer and the Practice of Medicine
By Larry Dossey, M.D.
Handbook of Positive Prayer
By Hypatia Hasbrouck
Prayers for Healing: 365 Blessings, Poems, & Meditations from Around the World
By Maggie Oman
Miracle Prayer: Nine Steps to Creating Prayers That Get Results
By Susan Shumsky
Divine Guidance: How to Have a Dialogue with God and Your Guardian Angels
By Dorreen Virtue
Illuminata: A Return to Prayer
By Marianne Williamson
13. The Best Books for Healing Your Body Naturally
Mind Over Medicine: Scientific Proof That You Can Heal Yourself
 By Dr. Lissa Rankin
Love, Medicine and Miracles: Lessons Learned about Self-Healing from a Surgeon's Experience with Exceptional Patients
  By Dr. Bernie Siegel
Crazy Sexy Cancer Tips
 By Kris Carr
Crazy Sexy Diet: Eat Your Veggies, Ignite Your Spark, and Live Like You Mean It!
 By Kris Carr
Leave a Comment or a Question
I'd love to hear your comments and questions.
Do you have favorite books you'd like to share?
More Information
For more information, you may also enjoy reading some of Kari's other Blog Posts like:
10 Tips to Reduce Your Stress with Change
Conquer Anxiety through Personal Power
Replace Your Isolation or Loneliness with Healthy Connections
Why does Emotional Healing Transform Your Life?
50 Long-Term Benefits of Emotional Healing