Change is difficult for most people–especially those of us who grew up in dysfunctional families. We like to stay in our comfort zone; we prefer things to be safe and secure, we want to control the changes in our lives. Yet even little changes that we choose for ourselves can often require months of emotional adjustment, like having a baby, or moving to a new area.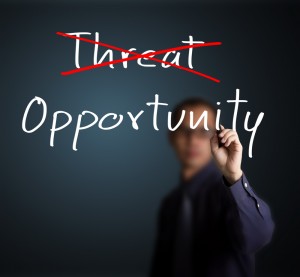 We feel overwhelmed when changes happen that are out of our control, like getting laid off from a job, or a partner asking for a divorce. And when our whole economic structure falls apart, like it has recently, it can definitely seem to us like an insurmountable crisis.
Understanding the Effects of Stressful Life Change
On an unconscious level, change can make you feel vulnerable and out of control, which reminds you of negative experiences from childhood when you were small and vulnerable. If you're not aware, you can unknowingly go into defensive, reactive behavior, expecting the worst and protecting yourself from your perceived enemies.
Fortunately, with awareness you can transform those negative responses. You can choose, instead, to see change as a gift. And by making that choice, you can open to the amazing opportunities change offers you– to learn and grow in the process. So what can you do when the world you know falls apart? Why not learn to ride the waves of life instead of trying to control everything?
Here are 10 Tips for Reducing the Stress with Change:
1. Surrender! Let the Higher Power take charge of your life. The Higher Power knows much better than you or I what will be for your best and highest good.
2. Cry when you need to cry! Crying is a natural way to release your pain and stress.
3. Forgive yourself and forgive others! Blaming yourself or blaming others for your emotional pain just keeps you stuck in a rut. Forgiveness doesn't condone negative behavior; it just sets you free to move forward.
4. Stay open to the life lessons that the Higher Power wants to teach you. The Higher Power always wants you to learn about self-acceptance, self-esteem and self-actualization.
5. Practice gratitude constantly! Gratitude takes you into a natural high and opens you for greater good to come your way.
6. Replace your negative expectations with positive affirmations. Practice your faith in the goodness of the Higher Power and affirm that good things are coming your way.
7. Imagine regularly already having the good you want to create. Spend at least five minutes every day seeing, hearing, smelling, tasting and feeling yourself already having all the good you want to create. Have fun with it!
8. Share the love in your heart by learning healthy communication skills. If you want others to feel the love you have for them, it's important to show your love by the way you communicate on a daily basis.
9. Laugh regularly and keep your sense of humor. It's hard to stay negative and depressed when you're laughing. People love friends who make them laugh.
10. Find simple ways to have fun with the people you love! Fun doesn't have to be expensive. Go sledding, play Frisbee, take a walk together or play a game.
And, whatever you do, don't forget to stay open to the good the Higher Power has in store for you. When you look back ten years from now, you may be saying "Even though I thought that the world had turned upside down, those were the best years of my life!"
Leave a Comment or a Question
I'd love to hear your comments and questions.
Have you experienced anything like this in your life?
What would you like to hear more about?
Sign Up Today to Receive Kari's Future Blog Posts
If you have enjoyed this post, you can sign up today to receive Kari's future posts in your email. Just fill in your name and e-mail address in the blue and white box on the upper right column above Kari's picture and we'll be very happy to notify you when the next post is ready!
More Information:
For more information, you may also want to read some of Kari's other posts:
The Surprising Health Benefits of Laughter
Stay Stress-Free and Light-Hearted During Tough Times
10 Simple Ways to Love Yourself